We are an interdisciplinary team with diverse expertise in contemporary policing.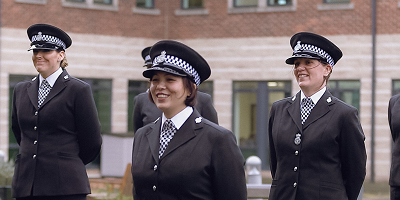 Building on the 50-year history of The Open University, we design and deliver flexible and engaging blended learning curriculum that meets the needs of policing practitioners and organisations nationally and internationally.
The team are engaged in a wide range of research, scholarship and knowledge exchange activities working collaboratively with our police partners though the Centre for Policing Research and Learning.
Areas of expertise within the team include:
Police diversity and culture
Counter-terrorism
Evidence-based policing
Police ethics and accountability
Police education and professionalisation
Policing Mental Health
Work-based learning
Professional Police Practice
More information about individual members can be found in their profiles.
---
Qualifications
We currently deliver the Police Constable Degree Apprenticeship and Degree Holder Entry Programme and have plans to develop further qualification as part of our 10-Year Strategy for Policing at The Open University. 
The two routes of the framework that the OU deliver are:
Police Constable Degree Apprenticeship (PCDA)
The PCDA mixes on-the-job training with off-the-job learning and will provide the skills and knowledge needed for a policing career that will also lead to a nationally recognised degree qualification.
The PCDA offers a greater breadth, depth and complexity of learning than current training and also provides officers with an income while they learn.
Degree Holder Entry Programme (DHEP)
The programme is aimed at degree-holders, attained in any subject area. This two-year practice-based programme enables candidates to perform the role of Police Constable. Successful completion results in achievement of a Graduate Diploma in Professional Policing Practice.
Although not an apprenticeship itself, the Degree Holder Entry Programme is delivered using the same methodology as the PCDA.
Both programmes equips learners with the knowledge, skills and behaviours necessary to become a competent Police Constable. As a national university, we have the infrastructure to deliver our programmes across all four nations of the UK. 
We also have plans to develop further qualifications and would welcome enquiries from police partners who are seeking to enhance their accredited learning offer and develop curriculum partnerships.
Visit our Apprenticeship page for more information or to sign up
---
Case study: North Yorkshire Police
An example of our delivery and its impact is showcased in our partnership with North Yorkshire Police (NYP).
A unique aspect of the programmes is that they are co-delivered by both NYP and the OU. The OU largely delivers the academic and legal content, while NYP delivers the practical work-based knowledge and its application. This allows each partner to deliver to their key strengths and expertise.
Andrew McGregor-Taylor, Police Constable Degree Apprenticeship Implementation Manager at NYP, says going digital and partnering up with the OU has really helped the force deliver on its aims.
Because of the nature and geography of North Yorkshire Police we are moving to a more digital way of delivering training.The Open University's background of online learning, its vast knowledge and how they were set up originally to ensure anybody could get a degree was a real attraction for us.

Andrew McGregor-Taylor
Police Constable Degree Apprenticeship Implementation Manager at NYP
This collaborative partnership was united in its mission to design learning that is engaging, interactive, but also flexible enough to meet the professional and personal demands of the student officers, who are required to combine full-time work with their degree-level studies.
Find out more about the partnership on our dedicated case study page.
---
OU Policing Blog
The OU Policing Blog features posts from academics in the Policing Organisation and Practice (POP) department in The Open University's Faculty of Business and Law and contributions from academics in The Open University's Centre for Policing Research and Learning (CPRL).
Here you will find insights, commentary and discussion on topics relating to policing education, research, events and issues. 
---
Find out more
We showcase a lot of our work through our POP Twitter Site and encourage you to visit, ask us questions and share our work..