PUFin engages in a number of research activities and events in order to further our understanding and to share findings with stakeholders and the public.
---
Events
The dark story behind cocoa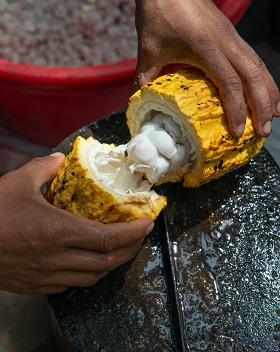 The US Department of Labour has estimated that 1.56 million children carry out hazardous work on cocoa farms in Ghana and the Ivory Coast. The topic is more relevant than ever in light of the partial COVID-19 lockdown in the Ivory Coast which saw a sharp rise in child labour.
The child labour plague has been long under the spotlight of international bodies, foundations, and standard setters. Nevertheless, the cocoa industry remains still dogged in controversy amid allegations of child labour and slavery, despite promises to eradicate it in 2001. Our research examines the issues of child labour, forced child labour and unsustainable farming practices within the chocolate industry, with a specific focus on the discourse about Nestlé's Ivory Coast cocoa supply chain.
Despite introducing sustainability programs, Nestlé and several other international companies continue to source cocoa from the Ivory Coast. Will they keep their promises to eradicate the worst forms of child labour, including slavery? Only time will tell, but after two decades the problems persist.
This PUFin event, held in April 2021, brought academic and non-academic experts together to discuss this "wicked problem" of child labour in society.
---
Publications
Oliver, M. J., & Rutterford, J. (2020). 'The capital market is dead': the difficult birth of index‐linked gilts in the UK. The Economic History Review, 73(1), 258-280.
Gounopoulos, D., Loukopoulos, G., & Loukopoulos, P. (2020). CEO education and the ability to raise capital. Corporate Governance: An International Review
Omar, A. M., Wisniewski, T. P., & Yekini, L. S. (2019). Psychopathic traits of corporate leadership as predictors of future stock returns. European Financial Management, 25(5), 1196-1228.
Prabhakar, R. (2019). Financial inclusion: A tale of two literatures. Social Policy and Society, 18(1), 37-50.
Bernardi, C. And Stark, A.W. (2018). "Environmental, social and governance disclosure, integrated reporting, and the accuracy of analyst forecasts", The British Accounting Review, Volume 50, Issue 1, pp. 16-31.
Van Mourik, C., & Walton, P. (2018). The European IFRS endorsement process–in search of a single voice. Accounting in Europe, 15(1), 1-32
Ataullah, A., Vivian, A., & Xu, B. (2018). Time-varying managerial overconfidence and corporate debt maturity structure. The European Journal of Finance, 24(2), 157-181.
Skovoroda, R., & Bruce, A. (2017). Shifting the goalposts? Analysing changes to performance peer groups used to determine the remuneration of FTSE 100 CEOs. British Journal of Management, 28(2), 265-279.
Richards, D. W., Fenton-O'Creevy, M., Rutterford, J., & Kodwani, D. G. (2018). Is the disposition effect related to investors' reliance on System 1 and System 2 processes or their strategy of emotion regulation?. Journal of Economic Psychology, 66, 79-92..
Wang, Y., & Lahr, H. (2017). Takeover law to protect shareholders: Increasing efficiency or merely redistributing gains?. Journal of Corporate finance, 43, 288-315.