Independent Non-Executive Director and Adviser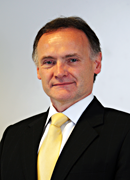 Following a career of over two decades with American Express, James now holds a number of board and advisory roles across different sectors. Today, James is the chair of JPMorgan Wholesale Payments Europe; an independent non-executive director (INED) with Everest Re Ireland where he also chairs the risk committee; and sits on the board and the risk and audit committees of Aioi Nissay Dowa Europe. He has also served as an INED with the Swiss Re subsidiary, ReAssure.
At American Express, James held a number of senior international roles including Head of Customer Services, Europe and Head of Commercial Card, Europe. During this time, he also served as a member of the American Express European Governance Board and an advisor to the board of Amex (Saudi Arabia) Ltd. Before joining American Express James spent six years in the offshore oil industry.
In addition to his role as a member of the OUBS International Advisory Board, James has served the Stanford University Institute for Innovation in Developing Economies.
He has a BE from University College Cork, an MSc from University College London, an MBA from Manchester Business School and an MSc in Computing from the Open University. James is also a Certified Information Security Manager with ISACA.
In September 2021, James co-authored a paper with the Head of the Department for Strategy and Marketing, Professor Elizabeth Daniel.
'Lessons from Practice: Insights on cybersecurity strategy for business leaders, from SMEs to Global Enterprises' provides an insight into the extent of the cyber threat organisations are facing today and offers recommendations for business leaders in organisations of all sizes on practical steps they can take to develop a cybersecurity strategy.