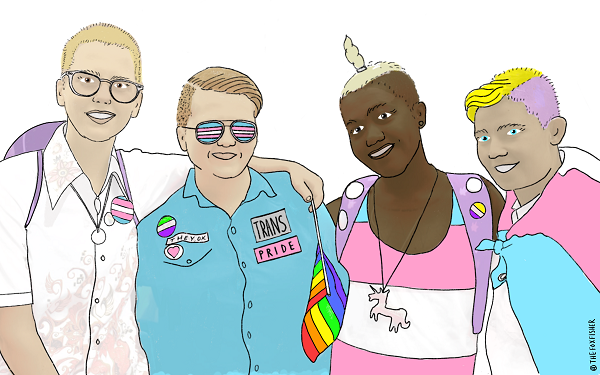 This National Institute of Health Research (NIHR) funded study aims to improve health care for trans adults in the NHS. Specifically the project will provide information on how to develop effective models for the health services needed to support trans adults before, during and after they are seen by NHS-commissioned specialist gender identity services. The focus is on effective integration of care – or how to make health care more 'joined up'.
The research team consists of a unique collaboration of health services researchers, research psychologists and specialists in sexuality, gender and health with specialist clinical providers and third sector organisations. The project will involve an active role for a group of trans service users as well as third sector organisations that work with various trans communities. The research will employ principles and practices of co-production. 
Learn more about the project in the following videos. Open University research fellow Ben Vincent talks about what the ICTA project is, what the project aims to change and why trans (including nonbinary people) should trust this project. Professor Richard Holti of The Open University talks about why the project was set up.
The study research questions are
What is the current range of models used in the UK for providing integrated care for meeting the specific health and wellbeing needs of trans people? 
In the different integrated service models, how effective are the different aspects of services and their interaction in meeting the needs of people at different stages of their gender transition and at different ages? 
Which factors make services more or less accessible and acceptable to the variety of trans adults who need them? 
What lessons emerge as to how models for providing integrated care can be successfully implemented and further improved in meeting the needs of trans people within limited resources? 
The research will use innovative and collaborative methodologies to learn from current initiatives to improve the integration of care. The project will use mixed methods, including structured analysis of policy and practice documents, in-depth case studies of current initiatives to improve the integration of care for trans adults, and a wider national survey of trans adults to establish which features of services make them more or less accessible and acceptable for different groups. 
The overall research objective is to produce guidance material and on-line educational materials for trans people who use services, as well as commissioners and staff in specialist and generalist services, so that they can better understand and shape cost-efficient and integrated provision. The project will develop high quality guidance and online educational materials for disseminating the learning and engaging with service users, professionals and commissioners to bring about more effective models and practices in care. It will produce a novel typology of integrated service arrangements relevant to trans adults and indicate how existing integration initiatives can be improved. The research will also indicate where there may be benefit in exploring further types of service innovation.