The graduation ceremony took place at the Harrogate Convention Centre in Yorkshire where MBA alumnus David Harrison received his award.
He was nominated for the 'exceptional contribution' he has made to highlighting the need to improve public understanding of personal finance – an area of work that is of special educational concern to the OU Business School.
His award comes as the Harrison Centre for Social Mobility opens its first online learning centre aimed at giving millions of people across the UK the opportunity to upskill and improve their employability prospects.
The new digital Harrison Centre is a partnership with The Open University and sees a suite of education and development free courses available to the public via the OpenLearn platform. Courses include Managing my money for young adults; Managing my investments; English: skills for learning; Entrepreneurship – from ideas to reality; and Commercial awareness.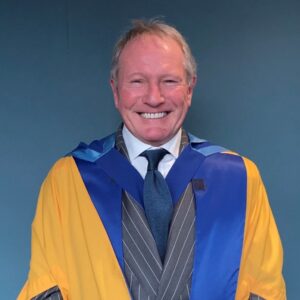 David Harrison (pictured right) said:
"I've always been a big believer in the power of a job to improve social mobility and that has also been my personal experience. Education is the building block to achieving that and it's why I am proud of the work that we are doing through the Harrison Centres with our partners. I'm particularly pleased to add The Open University to that list.
"Businesses themselves are great drivers of social mobility and many of the digital Harrison Centre courses are aimed at creating an understanding of the commercial world. Other courses support people with household finances, investing and budgeting all of which are particularly relevant at this time in our economy.
"The courses are freely available on the OpenLearn platform to everyone across the UK and I'm sure people will find them both enjoyable and valuable."
The University is delighted to have worked with visionary entrepreneur David Harrison over many years, from his time as a student on our triple-accredited MBA, to partnering with his organisation True Potential to set up an innovative Centre for the Public Understanding of Finance (PUFin) providing free personal finance learning at scale.

We are now continuing the relationship through the Harrison Centre. Its focus on societal impact, social justice and social mobility means that together we can support more people in new ways to achieve their ambitions.

Prof Devendra Kodwani
Executive Dean, Faculty of Business and Law
The first digital Harrison Centre for Social Mobility builds on existing centres, the first of which opened in partnership with Sunderland Football Club in 2018. More have been announced this year, including those in partnership with Newcastle United Football Club and a purpose-built Harrison Centre for Social Mobility in the Caribbean.
David is the founder of Fintech business True Potential based in Newcastle, which manages more than £22bn of assets. In 2013, the firm donated more than £1.4 million to the OU to create a suite of financial literacy courses, available to the public free of charge.
Access courses here via the digital Harrison Centre for Social Mobility.