Stroke survivor Nick Clarke from Stockport in Cheshire is not a quitter – his reaction to his life-changing incident back in September 2012 demonstrates this.
Although Nick did not complete the full MBA with The Open University Business School, partly due to narrowly missing a module pass mark and this period coinciding with the birth of his first daughter Megan, his overall OU experience was a happy one for the football-mad married father of two.
This proved invaluable when he suffered a severe stroke, a bleed to the left side of his brain which meant he lost the use of his right side, while still in his 40s.
I'm the Founder and CEO of StrokeInformation, which was born when a former work colleague suggested I should start a blog to maybe reach out and contact others who had been impacted. I was determined to make something of my life after this setback and, even more, I wanted to share the experience to help others.

I class myself as very fortunate indeed. Not only did I build the website, I loved reliving the journey, from the moment it happened, to when I was admitted to hospital and hearing the consultant who first examined me tell my wife and my parents 'to prepare for the worst as it was a very bad bleed'.

The charity's main driver is to get the stroke survivor feeling that sense of worth once more. This is hopefully through employment but if the person is not of an age where work is a priority, to make them feel wanted, a part of something. That's what it's like when you study with The Open University, you feel part of something. My time, experience and education with the OU paid off as I managed to use some of things for the charity that I had learned.
Growing up, Nick was not motivated by academic studies and instead yearned to be a professional footballer. He said:
My school days were focused on sport and, in particular, football. I had trials with the likes of Bury, Bolton Wanderers, Blackburn and eventually Grimsby Town. I remember scoring a hat-trick one day when our team of triallists thrashed Grimsby's reserve side 9-3!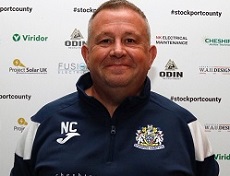 Although his footballing exploits do not rival those of the late great George Best, he enjoys a few things in common with the Irish and Manchester United legend as he also played at Old Trafford, Fulham's Craven Cottage, and more locally, Stockport County's Edgeley Park, over the years.
Nick, shown right, can be seen donning his Stockport County football tracksuit.
I knew deep down that the chances of making it to the big time were diminishing each year. I was working for a cable television and telephony company, which had just moved into the UK from New York, where my manager was doing an OU MBA. He believed in me and said I should consider following in his footsteps.

My employer agreed to contribute towards the cost of the first year of study. It was a fantastic journey from the initial meeting, to the sub-groups and our own little cult of friends which I'm still in touch with to this very day. The meeting point was a local hotel and we really did have a good mix of skill sets, interests, hobbies and employers. This was also the case on my first ever residential school at a branded hotel in Bristol.

The whole experience of that first year was superb, and the assistance from my student colleagues, to our fantastic tutor who was charming. There was a definite sense of achievement after completing every TMA – at least that was the case until the mark came back! I never thought I'd be doing exams again after leaving school education but, although frightening at the time, I look back on it now as an enjoyable experience.

A work colleague followed in my footsteps in my second year of study which meant a little added pressure. Although Chris lived in a different area, we provided support to each other by discussing topics, theories and TMAs in work time.

One funny story is when it was the first ever opportunity for OU students to go abroad to undertake their residential section of the course. Our master plan was to put Turin down as our first choice with a view to seeing a Juventus football home game while we were there. The stars aligned and I also convinced my wife that we had been picked to represent the OU in Italy!

We flew to Turin, via Frankfurt, really excited by the prospect of an impending trip to the Stadio delle Alpi, the then home of Juventus. Unfortunately, because Juventus were playing in Europe, the game had been moved from the Saturday (which would have allowed us time to miss some of the residential) to the Sunday. This meant we would have to forfeit the residential school and potentially fail the course. In the spirit of the beautiful game, Juventus lost, and Manchester won as we both completed the course!"
There are approximately 153,000 stroke victims every year in the UK and 17 million globally.
StrokeInformation is a registered charity, registered with the Charity Commission for England and Wales (ref 1166424). Based in Stockport, it now runs a free weekly drop-in facility in the town for anyone impacted by stroke to come along and speak to other survivors, as well as offering help and support to their family and friends.