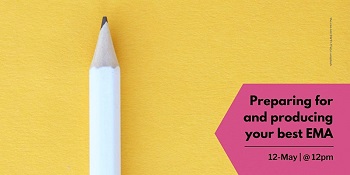 End-of-module assessments (EMAs) are important both because of the marks they attract and as a final piece of work that allows you to exhibit your comprehension of a completed module.
In this interactive workshop Student Hub Libe (SHL) will look at how EMAs differ from TMAs and how to demonstrate your understanding at an appropriate level of detail. 
Register to attend here and subscribe at Student Hub Live if you would like to be notified about regisration and upcoming events.  
Important notice: SHL events are usually fully booked. If you are unable to attend, we kindly ask you to cancel your ticket to enable a student on a waiting list to attend.
This session is very tightly structured, starting promptly and finishing on time, with a strict programme of presentations and group activities. Please log in 15 minutes before the start, so that you can test your equipment and familiarise yourself with the online room.