SVP IT Infrastructure and Operations for Centene Corporation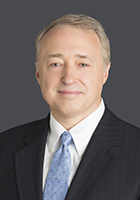 Centene Corporation delivers government sponsored healthcare solutions across the US and internationally,  with a focus on Spain and the UK. Previously Bruce was Fannie Mae's Senior Vice President and Head of Technology and Operations, helping to digitally transform the US secondary mortgage finance company.
Before joining Fannie Mae in June 2014, Bruce was Group Chief Information Officer for NYSE Euronext, overseeing all aspects of Technology in the highly regulated and competitive Exchange Traded Securities sector. Prior to that he was Chief Operating Officer for HSBC's Investment Banking and Trading business in the Americas, overseeing IT, Operations, and Risk teams in Canada, the US, and Latin America. He has also held IT leadership positions at BNP Paribas SA in London, Tokyo, and New York; and American Management Systems.
Bruce has a bachelor of science in computer science from Hertfordshire University in England.