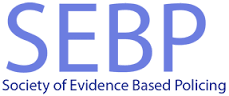 Please note Day 2 - Friday 2 March - of this conference is cancelled due to the adverse weather. Please do not travel to the venue as it is closed.
The Society for Evidence Based Policing Conference is hosted by The Open University's Centre for Policing Research and Learning.
The Society for Evidence Based Policing (SEBP) is made up of police officers, police staff, and research professionals who aim to make evidence based methodology part of everyday policing in the UK.
The Open University's Centre for Policing Research and Learning contributes through research, education and knowledge exchange to the work of police forces as they adapt to a changing policing landscape, with its greater emphasis on evidence-based practice.
The conference will showcase new research and knowledge across all areas of policing and will include world-class academics.
SEBP conferences have become known for delivering the latest applied research that challenges many of the assumptions that are made in policing.  Delivery is fast and furious, there are opportunities also to network and break-out sessions allow for more interaction with speakers.
Space is limited and the conferences always generate waiting lists for attendance so it is worth booking early. Organisations can block book spaces if required.
More details on the sessions covered will follow shortly. If in the meantime you have any questions, please call us on 01908 655261.
Event booking details
The price for the conference is £85 per delegate.
Exclusively for groups of 10 people or more, a discount of £10 per head is available. Please email oupc@open.ac.uk to secure this group discount.
The booking for this event is now closed, if you are interested in a space/s please email us, and we can place you on a waiting list.
Accommodation
Delegates are asked to make their own arrangements for accommodation. The Hilton Milton Keynes and Kents Hill Park are a short walk from The Open University campus. Please quote the OU when booking. 
There are a wide range of other accommodation options in Milton Keynes, many are a short taxi journey from The Open University or contact us for advice.
Travel advice
Comprehensive travel advice to The Open University is available.
Milton Keynes Central Train station is the nearest and in addition to the public bus services to and from the station, Souls Coaches operates a peak hour station shuttle bus. The shuttle service runs directly to the station (15 minutes). Further information and a timetable is available online.
Taxis are available outside the station, however a pre-booked service is likely to be cheaper. Some taxi company phone numbers are listed online.
Cancellation Policy
No refund will be given to delegates who fail to attend or whose cancellation we receive less than 10 working days prior to the specified event.