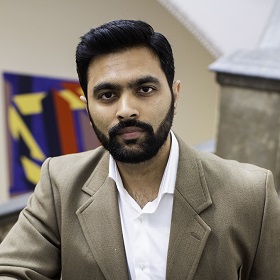 Waqās is a Visiting Fellow working with Executive Education in OUBS.
Waqās is considered a world authority on multidisciplinary thinking and versatility. He works with organisations across various sectors to integrate such approaches into their strategies and operations. He is the author of the internationally acclaimed book The Polymath (Wiley 2019) and is founder of the DaVinci Network.
His ideas arise from extensive research as well as his own exceptionally diverse academic and professional background. He holds a BSc in Development Economics (SOAS) and postgraduate degrees in International History (LSE) and Neuroscience (King's College London).
His two main professional careers have been in diplomatic journalism (Global correspondent, FIRST Magazine) and visual art (Artistic Director, Khalili Collections). He has published articles on a range of subjects including philosophy, art, history and education.
Waqās' work has been featured in or reviewed by the Financial Times, Forbes, the BBC and The Lancet.
Current research interests
Neural Underpinnings of Cognitive Flexibility 
Interdisciplinarity for Problem-Based Learning
Global Citizenship Education 
Multidisciplinary Approaches to Wellbeing
Polymathy in Business and Management (360 Leadership, Cross-Sectoral Creativity, Executive Self-Development) 
Published book
The Polymath: Unlocking the Power of Human Versatility (Wiley 2019)
Edited publications
Holy Makkah: A Celebration of Unity (FIRST 2017)
Commonwealth Heads of Government Meetings: Official Reports (FIRST 2011-2015)
Published articles
The Mind of Leonardo da Vinci - Philosophy Now
Self-Actuarisation - The Actuary
Lifelong Learning in the Age of Specialisation - FE News
A (Non-Western) History of Versatility - Aeon (forthcoming)
A Visual History of British Versatility - BBC Arts
Investigation the Growing Epidemic of Workplace Disillusionment – Ambition Magazine (Association of MBAs)
Dubai: The 21st Century Florence? FIRST Magazine
Academic papers and Conference presentations
Post World War Two Movement for a World Government, The Federalist Debate (2009)
Multidisciplinary Approaches to Chronic Pain Management – World Pain Congress, International Association for the Study of Pain (IASP), Amsterdam (August 2020)
Websites