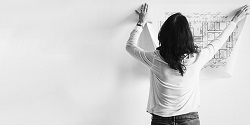 An important contributor to happiness and wellbeing is the ability to turn stumbling blocks into stepping stones and create meaning from seemingly unpleasant situations.
In this seminar Jeni Sanderson will talk you through the science of human flourishing and share reflective thinking tools that can help you take more positives from difficult situations and feel stronger, more productive — and improve your wellbeing and resilience in the process. 
Two hundred tickets (with a limit of one per person) are available on a 'first come, first served' basis through Eventbrite.  If you would like to be notified about future events, you can click the 'Follow' button.
Important note: This session is very tightly structured, starting promptly and finishing on time, with a strict programme of presentations and group activities.
Please log in 15 minutes before the start, so that you can test your equipment and familiarise yourself with the online room.