The Open University Business School (OUBS) delivers transformational, high quality business and management education. We are proud to be part of an elite and exclusive group of just 1% of business schools worldwide that are triple accredited.
Our mission
Providing world-class open education and research which empowers individuals, organisations and society to influence future global development and deliver just outcomes.
Our vision
To empower all professionals who strive to solve complex, critical problems by continuously learning, improving practice, supporting diversity, creating knowledge and innovating for responsible growth. Our global community will deliver social mobility and create a sustainable future.
---
Future Leader Scholarship
Thanks to the generosity of our Alumni, we are offering a scholarship for the first two modules of the MBA to someone with the potential to be a Future Leader.  
The fund is for those aiming to make a step change in their career, who view the MBA as essential in accelerating their success.
The first two modules of the MBA covered by the scholarship are:
B870 Managing in a changing world
B872 Creating and sustaining value
Upon successful completion of these  modules the beneficiary will be awarded a Postgraduate Certificate in Business Administration, the first award on the pathway to an MBA.
Applicants will need to meet the following criteria to apply:
A bachelor's degree awarded with honours from a recognised UK university or the overseas equivalent
A minimum of three years' experience in a managerial, professional or technical role
Good knowledge of the English Language (to International English Language Test System (IELTS) score of 6.5)
Applications for this year's scholarship are now now open and will be awarded in February ready for the beneficiary to start their studies in May. Entries for the Future Leader Fund must be submitted by 17:00hrs on Friday 7 January 2022.
---
How to apply
To apply entrants must answer the following question in no more than 500 words. Please use the official application form to submit your entries.
Question
Why do you want to study for an MBA with The Open University Business School and how would you apply your learning to benefit your own future, your organisation, and/or society more widely?
Guidance on answering the question
When answering the question note that the judging panel will look for:
Compelling benefits to yourself and others
Understanding of the Open University's learning approach and what MBA study entails
Motivation to apply what you will learn to the workplace and wider society
Future leadership potential
---
Beneficiary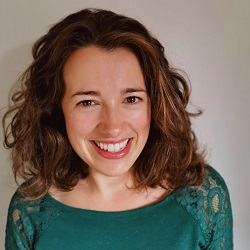 Amanda, a Senior Policy Analysis Officer with the Scottish Funding Council, is the 2021 recipient of the OU's Future Leader Fund Scholarship. From May 2021, Amanda will begin her scholarship for the first two modules of the triple-accredited Master of Business Administration.
"I applied for the Future Leader Fund because I love learning and many of the MBA modules offered by the OU piqued my interest. It's a world-class course with triple accreditation, meaning it's high-quality and proven to add value – I'm always conscious of the need to spend my professional development time wisely!
"I was also attracted because the course is largely via distance learning, but also has opportunities to share the experience with fellow students.
"The scholarship will support my professional development and the modules that I will be part of – 'Managing in a Changing World' and 'Creating and Sustaining Value' – are fascinating topics that are of such importance to anyone aspiring to be a leader. "My career has been spent within the education sector, predominantly in higher education. I've had the opportunity to immerse myself in the inner workings of fantastic universities across a huge range of topics – finance, quality, performance, reputation, student experience and so on, and I've learned so much.
"My current organisation's ambition is for Scotland to be 'the best place in the world to learn, educate, research and innovate', and this resonates with me. I want to be the best employee, colleague and leader I can be within that context. UK higher and further education has so much to offer the world, and I feel privileged to be able to play a part. I hope the Future Leader scholarship will enhance and accelerate the contribution I can make within my organisation, my team and within the education sector more broadly.
"Overall, this scholarship will enable me to begin my MBA flexibly alongside full-time work. It will enhance my management knowledge and provide structure for my own reflective practice.
"The Future Leader Fund has enabled me to fast-track my acceptance to an MBA, which I wouldn't have otherwise been able to fund at this point. I am grateful to those alumni who made the scholarship possible.
"This will be my first time studying with The Open University and I'm really looking forward to it. The OU fulfils such an important role for learners across the UK and further afield, improving accessibility and offering convenience to fit study around other commitments. This is a big draw, especially for something like an MBA, where there are lots of benefits from being able to apply your learning immediately in the workplace.
"I am impressed by stories from OU alumni who have spoken about their experiences of doing an OU MBA and the doors this opened for them. I plan to make the absolute best of the experience.
"I'm definitely interested in pursuing the full MBA. It's great that you have seven years to complete the full programme, which means you can take a modular approach and adapt the pace of your progression through the course depending your work and life commitments."
Support the scholarship
If you would like to support the scholarship, you can donate via The Open University donations page and choose 'MBA Future Leader Fund'.
One of our Future Leader Fund MBA graduates