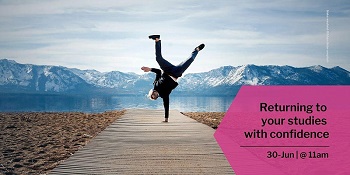 We all need a confidence boost to feel study ready. It doesn't matter whether your studies have been paused for years, months, or just over the summer, Student Hub Live want to help you feel ready to restart. In this broadcast you'll hear from real students and discuss how tough they sometimes found it – and why they're glad they carried on. They'll look at the practicalities of coming back to study and have careers experts on hand to help you focus on the end goal. Don't feel stuck – join Student Hub Live to take the first step towards rediscovering your study ambition.
Four hundred tickets (with a limit of one per person) are available on a 'first come, first served' basis through Eventbrite. Subscribe at Student Hub Live if you would like to be notified about regisration and upcoming events.  
Important notice: This session is very tightly structured, starting promptly and finishing on time, with a strict programme of presentations and group activities. Please log in 15 minutes before the start, so that you can test your equipment and familiarise yourself with the online room.