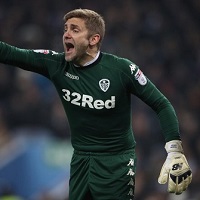 Leeds United goalkeeper Rob Green believes the BA (Hons) Business Management (Sports and Football) degree is the perfect qualification for football supporters.
The former England international is currently studying to gain the degree through The Open University and the course uses case studies and examples from the football industry to help apply theory to real world situations. 
It is a way of learning that appealed instantly to the 36-year-old: "I wanted to have an idea what I wanted to do after I finished playing," said Green. "The BA (Hons) Business Management degree felt like a natural step for me to take. 
"It is hard work but enjoyable at the same time. The course is made up of numerous modules looking at different business areas and not just reading book after book. I have had to take case studies and apply them to real-life situations." 
Even though Green has one eye on his future after he hangs up his gloves, the goalkeeper still has his hands full competing for Leeds United on a weekly basis. 
"The beauty of the course is its flexibility, it works for everybody," Green added. "I have spoken to other people studying the degree that are fans and they are clearly looking to get into football. 
"People can study this course from all walks of life. Fans can apply their learning to the team they support. A number of people have done this and it has been interesting to listen to their opinions. To learn in an environment where you passionately care is brilliant." 
Green's career started back in 1999, when he made his debut for Norwich City in the East Anglian derby against Ipswich Town. Since then, he has made nearly 600 league appearances including helping West Ham United and Norwich City win promotion to the Premier League. 
Discussing how he feels the degree will benefit him in later life, Green concluded: "To stay in football in a non-coaching capacity is something that appeals to me. 
"I've looked at working with footballers during their transitional period from playing to retiring and finding roles for them to do and it may not necessarily be in football. 
"There are a number of avenues I would like to look at and they are ideas. Even if it takes me a while after I retire to find the right thing, it doesn't mean that it is a bad experience. 
"People have many different jobs before they retire and the beauty of it is when footballers finish playing they are still young people and have a lot of life to live." 
This article was originally published by the EFL Trust. Read the original article.