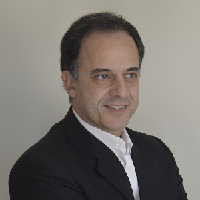 I started working when I was 18. I co-ordinated my university studies with a weekend job in a bank. After finishing my studies in Industrial Engineering, I worked for BP Oil in Spain for four and a half years. I began as a process engineer and later occupied different positions in the company.
At the end of 1998 I moved to a different town to work for a company in the Renewable Energy sector, where I still work today. I have spent the majority of my time working in the area of Business Development and Project Management and as a Regional Manager in different regions of Spain.
In the last quarter of 2013, I was promoted to the Director for Western Europe in our Development branch. After a change in the organisation, I was promoted to a new position in July 2015 as a Lean Expert, deploying different projects in the continuous improvement area of the organisation through the lean management methodology.
Why did you decide to do an MBA?
After finishing my university studies I decided to improve my management knowledge by doing an MBA. After weighing up the pros and cons, I decided that I would do it after obtaining some work experience. Years later, when I was 37, I decided to go ahead with the decision to study again.
Why did you choose the OU for your MBA? 
As I had been working mainly in Spain, I wanted to be prepared to tackle multi-national projects, I decided to look for a Business School in the UK with a good reputation in online learning and some colleagues recommended the OU as a good option for the MBA.
For me flexibility was very important. In fact, two of my three children were born in different years while I was studying the MBA and the Masters in International Finance. The methodology of the OU allowed me to juggle my job and personal life.
Were you able to apply your learnings from your MBA to your work? If so, please can you give examples/describe how your studies influenced your work?
I was able to apply my learning to my work. The situation was very relevant because while I was studying my MBA with the OU, my company decided to completely adapt the business and go abroad in a very bold international strategy. New senior management were recruited and at the same time I was studying financial concepts that were new to me.  The new senior management were applying similar concepts and I was able not only to understand them but also to add value in some areas of development.
The strategy course and the methodology of understanding the business, starting with the concept of stakeholders, were key for me. In fact, I deployed some strategies in our business taking into account this holistic view. The renewable energy sector needs to deal with many different stakeholders, not only the customers, suppliers, employees, competitors but also many others who oblige the manager to take them into account. In fact, the tool of understanding the power of each stakeholder was one of my pillars in designing the strategy in our competitive processes.
How has your MBA helped you to progress in your career?
After finishing the MBA, I decided to complete my training period with the Masters in International Finance at The Open University. A few months after obtaining the Master's degree, the company offered me the position of Country Manager in the UK. During the period I was with the OU, I had the opportunity to get involved in British culture and the way of doing business. That experience and knowledge were key to developing my function in the UK during the period I was working there.
Was there a specific module you particularly enjoyed/found most useful in relation to your workplace?
For me, the strategy course was very good and the module on organisations and process structure was also very relevant and should be taken into account by every organisation to design their strategy.
If you were asked to summarise the benefits of studying an MBA with the OU, what would you say?
Very good reputation in online methodology; gives you an international perspective; uses modern and recent case studies; and gives you an opportunity to deal with people from different countries and acquire a multi-cultural dimension of businesses.
If you had one line of advice for a new student, what would it be?
Do an MBA after gaining some work experience because you will be able to apply what you have learnt to real situations.
Are you considering any future study with the OU?
I am sure I will study again at some point my life and the OU will definitely be one of the best options.