Interview with Edwin Bainbridge, BA (Honours) Leadership & Management Student of the Year award winner 2016.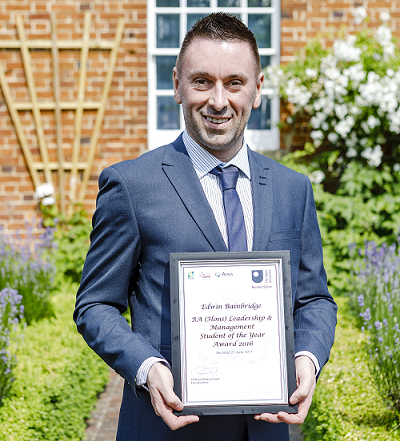 How did you feel when you found out that you had won the award?
When I received a letter advising that I had won the Student of The Year 2016 for the Leadership and Management degree I was completely shocked and surprised as I had absolutely no idea that the OU Business School ran this award scheme. I am really proud that I have won this award and it is a great form of recognition for the hard work that went into studying, writing tutor marked assignment's (TMA) and revising for exams.
Who would you like to thank?
I would like to thank the OU Business School for offering such a flexible approach to studying which allowed me to study towards a degree whilst working full time. The OU tutors also provided advice and encouragement at tutorials, in the tutor group forums and in their TMA feedback which helped me develop. I would also like to thank colleagues that provided support during my studies, team members who swapped shifts which allowed me to attend tutorials and to family and friends who provided support throughout my five years of studies. 
What inspired you to study with the OUBS?
I was inspired to study with the OU Business School as I had gained a lot of experience from different roles that I have had in my employment, but I recognised that my qualifications did not match this experience. In a competitive job market I realised that I needed to gain additional qualifications which is why I decided to study a BA Hons in Leadership and Management with the OU Business School.
What was your biggest challenge?
The biggest challenge was time. I felt it was a juggling act on occasions balancing studying alongside full time work whilst still having time for other commitments which included spending time with family, socialising with friends, participating in hobbies and some charitable work. With careful planning I managed to fulfil all my commitments and still achieved all OU deadlines for online projects, TMA's and electronic marked assignment's (EMA) without having to ask tutors for TMA extensions.
What have been your achievements been as a result of your studies?
As a result of studying I now feel more confident in my abilities as I have acquired new skills and learnt about different business models which have been useful in my working environment. Recognising the power of different stakeholders has helped me to initiate and implement successful change. As my current role involves dealing with colleagues and suppliers globally, I now as a result of my studies appreciate the importance of recognising different national and organisational cultures for successful business outcomes. I have also learnt about other functional areas of business that I have had little exposure too which has included finance and the importance of managing business costs and how organisations make strategic choices for where and how they compete within their markets.
Why did you choose to study with the OU Business School?
I chose to study with the OU Business School as studying with other education establishments would have meant doing day release or evening classes which was not feasible, as my full time employment involved working shifts. Apart from achieving deadlines for TMA's and EMA's, the OU offered a great deal of flexibility as I could choose when I wanted to study which allowed OU study to fit around full time work and other commitments. Other factors that influenced me to study with the OU Business School were the OU's triple accreditation and having the ability to choose optional modules as this allowed me to study subjects that were either areas of personal interest or provided additional development opportunities.
What would your advice be to anyone aspiring to achieve this award next year?
My advice to anyone aspiring to win this award next year would be; you have to work hard, be self-motivated and focused on your goals. I would also recommend attending tutorials as I found these extremely useful and beneficial to my studies and that feedback from tutors must be taken on board to improve your marks.
View Edwin's award video interview and find out more about our annual Student and Alumni Achievement Awards online.