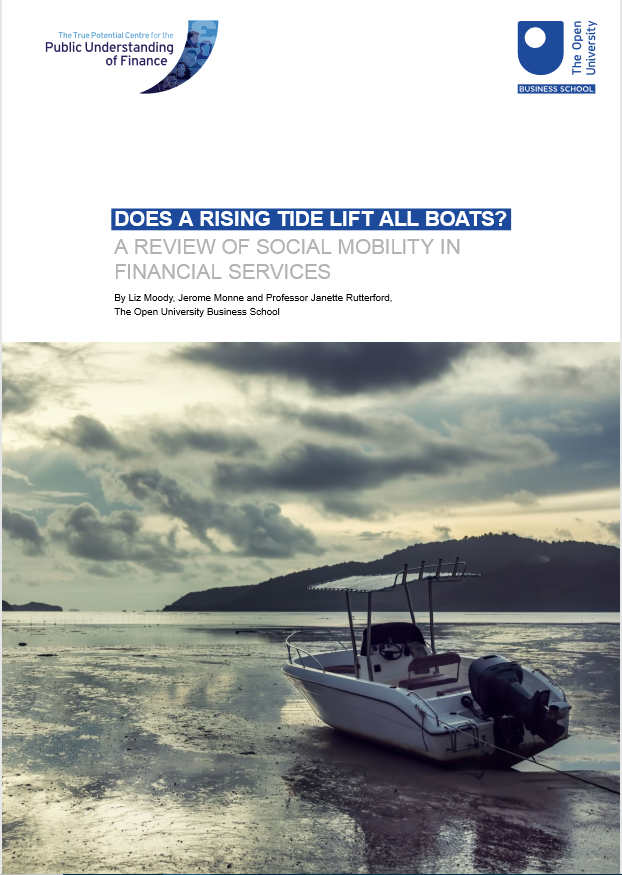 A number of attempts to focus the UK government on social mobility and growing inequality have been made. Yet key indicators point to a growing gulf in Britain between those with the least, with no apparent prospect of improving their life chances, and those who have enough and more.
It is a natural assumption that when the economy booms, everyone is better off and therefore that economic growth is the key to social mobility. However, the challenge of social mobility is a complex one that requires an integrated strategy, active intent, effort, and a shift in policy involving government, education and employers.
Research from The Open University's True Potential PUFin, 'Does a Rising Tide Lift All Boats? A Review of Social Mobility in Financial Services', concentrates on the financial services sector. The white paper from Liz Moody, Jerome Monne and Professor Janette Rutterford highlights how many financial services products, policies and practices currently work against social mobility for disadvantaged and vulnerable people in the UK and beyond.
We examine the choices, decisions and actions that financial services organisations make that perpetuate inequality, highlighting, for example, a lack of diversity to be found among its workforce. The fact that future generations are likely to be further disadvantaged by the current employment practices, policies and products of the financial services sector that favour the already wealthy requires intervention by government, as well as access to personal finance education of customers of the financial services sector.

Examples of where financial services companies have recognised the potential to operate in ways that positively influence social mobility now and for future generations are highlighted. The paper shows how tackling the issue of social mobility can lead to potential customer, workforce and employer benefits – all of benefit to the financial services sector. In this way, the financial services sector stands to gain from new customers, markets and in reputation. As a main driver of the country's prosperity, this would also benefit the country as a whole.

White paper co-author Professor Janette Rutterford