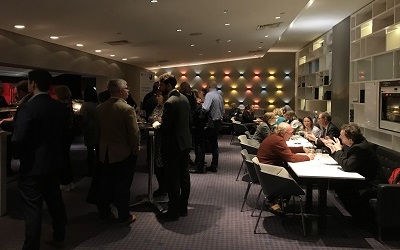 Two expert speakers ensured the fifth annual OUBS Festive Networking event in London was both fun and educational.
Professor David Wilson gave the keynote address on implementing strategic change, followed by an interactive session with alumna Dr Christine Billy on mentoring to facilitate change in the workplace. A great networking opportunity began and ended the event at the Pullman London St Pancras on Tuesday 11 December with attendees including Alumni Council Chairman Rob White and some of the original MBA cohort from 30 years ago.
David's talk on implementing strategic change covered aspects of organisational structure, culture and the characteristics of the change process itself, highlighting which factors can lead to more successful change outcomes. The Professor of Organisation Studies said: "The behaviour of people gets in the way of organisations changing successfully. The hardest part of organisational change is locking it into place, not getting started or even sustaining the change. It's hard to get people to change but it's even harder to ensure things don't slip; putting into practice is harder than thinking up the original idea. Implementation is the acid test of any change initiative."
Beyond the above factors, governance in all sectors of the economy also matters. He continued: "There has been a tendency in recent years for the board / top team to just exercise control, rather than focusing on strategic thinking and exercising judgement. Although top teams nowadays have access to huge amounts of data (digital and also support from artificial intelligence), they remain less good at processing this data and exercising judgement to make strategic decisions."
One key message of David's talk was that all organisations today compete primarily on talent.
If you are going to buy your firm a present this Christmas, buy them a smart person! You can tinker with structures and cultures but recruiting smart people will get you a lot further. 'Smart' means the ability to develop sound judgement (knowing why, what and how) and to be forward thinking. It's also important to develop your own people and this is where mentoring comes to the fore.

Professor David Wilson, Professor of Organisation Studies
Professional coach and mentor Christine discussed the benefits of mentoring, how individual and team mentoring can support change, and why it is important to choose your mentor wisely to ensure the right fit.
Mentoring promotes two-way learning and questions your own assumptions and beliefs. Mentoring and coaching helps people to make a shift in their mind. You will get different perspectives and learn from others who have already done it – you do not need to reinvent the wheel.

Dr Christine Billy, Professional Coach