The Open University Business School (OUBS) is a proud supporter of the biggest festival of workplace learning in the UK known as Learning at Work Week.
This support is part of Executive Education's partnership with Campaign for Learning, a national not-for-profit organisation that promotes lifelong learning, which has organised this annual awareness campaign every May since 1999.
OUBS sponsored the 'Supporting Business and Organisational Goals' category for the 2018 Learning at Work Week which had a theme of 'Networked for Learning', aiming to highlight the importance and benefits of learning and development at work.
The winners were Bristol Energy (top SME, below left) and First Bus (top Large Organisation, below right) who were each presented with their awards by the Acting Director for Executive Education at OUBS, Liz Moody.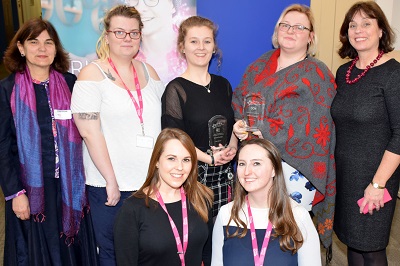 Successful organisations understand that people are their primary asset and so invest in developing skills, knowledge and motivation. Through innovative and imaginative learning and development activities, aligned to the organisation's aims and objectives, the greatest performance gains can be made. This year's winners encouraged collaboration, communication and networking and found a way to make learning fun. When people can link their successes to their learning, it is a great way to reinforce a learning culture. And when they find learning fun, this encourages them to keep going with it. We are pioneers in lifelong learning at The Open University and we support learning in the workplace because it is essential for business success

Our winning entries found creative ways to deliver learning in workplaces that just don't stop – they have people operating on shifts, out in the field and doing very different roles; somehow their learning and development champions pulled together programmes that had something for everyone.

Liz Moody, (Acting) Director, Executive Education, OUBS
The Campaign for Learning is delighted to work with OUBS and all of the companies and organisations who take part in Learning at Work Week; they are powerful advocates for learning at work and lifelong learning. Learning at Work Week is an opportunity to raise the profile and benefits of continual learning but it's best when it offers colleagues the chance to learn together, share ideas and collaborate. First Bus and Bristol Energy's award-winning Learning at Work Weeks are excellent examples of how this can be done creatively so it benefits both employees and the organisation.

Julia Wright, National Director, Campaign for Learning
"Learning at Work Week offers an opportunity to use learning to strengthen our business and develop our culture. We wanted to use the 'Networked for Learning' theme to increase collaboration between colleagues. Collaboration is one of our company values and is essential as working together helps us produce effective outcomes to benefit the business and ultimately our customers. Throughout the week in May 2018, we provided learning opportunities that developed cross-team networking, relationships and colleague collaboration. We're really grateful to OUBS for recognising these efforts and the benefits our events offered."

Georgina Elliott, People Development Advisor, Bristol Energy
"The First Bus team in Glasgow were delighted to accept the award on behalf of all our colleagues who promote and are passionate about Learning at Work Week. Thanks so much to OUBS for recognising the work that goes on to promote our values of being 'Supportive of each other' and 'Setting the highest standards'. We have a massively dispersed workforce from Aberdeen to Cornwall and it can be really difficult to reach people, connect with them and share ideas. We always view Learning at Work Week as a huge opportunity to connect with one another and promote not only the value of learning but the fun way it brings people together."

Hansi Jackson, Head of Learning and Development, First Bus