Independent Director and Audit Committee member, Aditya Birla Group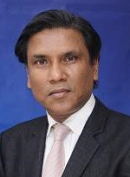 Sanjeeb Chaudhuri is a Board member and Advisor to various organisations across Europe and Asia.
He has over four decades of senior multinational business experience across global banks and consumer companies. He has been Regional Business Head for India and South Asia and Global Head of Brand and Chief Marketing Officer at Standard Chartered Bank. Prior to that, Sanjeeb was CEO of Retail and Commercial Banking for Citigroup Europe, Middle East and Africa. Before entering the financial services space, Sanjeeb held senior roles at Unilever, Colgate-Palmolive and Procter & Gamble.
His operating experience includes driving digital transformation at global organisations across Europe, Asia, Middle East and Africa. Most recently, he has personally driven Standard Chartered Bank's global pivot to digital and mobile marketing and created innovative approaches to Return on Marketing Investment (ROMI) attribution.
Sanjeeb was a key driver of Standard Chartered Bank's sponsorship of the United Nations Global Goals in 2015 which reached 3 billion people globally with the UN's Sustainability Goals message in 3 weeks. This was achieved through an innovative mix of online media and partnerships across sports, culture, non-profit and commercial organisations.
Sanjeeb's current portfolio includes Retail, FinTech and Marketing Tech businesses. He is an Independent Director and Audit Committee member at Aditya Birla Group, one of the largest exchange listed business groups in India with a turnover of $42 billion and over 120,000 employees. He is also a founder Director of Stab, a unique UK registered FinTech platform to aggregate real estate brokers globally.
He is International Advisory Board member of The Open University Business and Law Schools, UK. He is a visiting faculty member on Business Strategy, Financial Services and New Age Marketing at Wharton School of Business and Judge Business School. Sanjeeb has been Director of Citigroup Europe plc, Dublin, Bank Handlowy, Poland and Standard Chartered Securities Ltd, India.
Sanjeeb has an MBA in Marketing and has completed an Advanced Management Program. He is a featured speaker at premier global marketing and media events in Europe and Asia. He was listed among the Top 25 Media Visionaries in Asia Pacific in 2016.
Sanjeeb and his wife currently live in London and Mumbai.