Executive Vice President, Global Network and International Card Services, American Express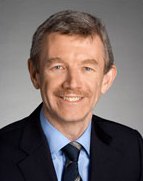 Peter Wright leads three divisions within American Express' Global Network and International Card Services division. 
He is the Head of Card Services for Europe, Middle East and Africa (EMEA) and oversees the company's consumer card-issuing businesses and merchant acquiring partnerships within this region.  He also leads the International Consumer Products and Marketing organisation, which is responsible for developing products and benefits for all of American Express' international consumer card-issuing businesses.  In addition, he runs the Global Network Business, which presides over the technical and operational management of the network, including developing and implementing new, innovative network products and capabilities for all participants on the American Express network. 
Peter is a member of American Express' Global Management Team.  In addition, Peter is Chairman of Swisscard, a card-issuing joint venture with American Express and Credit Suisse. 
Previously, Peter served as President of Global Network Services, which was the business unit responsible for managing the company's relationships with American Express' card-issuing and merchant-acquiring bank partners around the world.  Prior to that, Peter was Executive Vice President of GNS EMEA and also held various other positions within American Express, including Vice President of Business Services for American Express' International Establishment Services Group, Vice President of Strategic Alliances in Europe, Head of the American Express Card business in Austria and General Manager for Atlas American Express in Croatia, one of the company's first card-issuing partners in Europe.
Before joining American Express in 1986, Peter spent nearly 10 years with the Mars Corporation in the UK in a variety of sales and marketing positions. Peter holds an MBA from City University, London and degrees from Birmingham University and The Open University.