Our Mission
To develop innovative work-based educational interventions that inspire lasting impact on individual leaders and managers' performance, increase their confidence and personal effectiveness and impact positively on the productivity and effectiveness of their employing organisation.
We now accept the fact that learning is a lifelong process of keeping abreast of change. And the most pressing task is to teach people how to learn.

Peter Drucker, writer, teacher and management consultant
Times of unprecedented change test the true nature of an organisation. The most compelling vision, communicated with clarity and conviction will fail without a skilled leadership population and a dynamic learning culture to help make things happen. Our Executive Education programmes help leaders across levels of seniority hone the skills that will enable them to find their 'true north' and navigate through calm or turbulent times to achieve strategic business objectives and develop the desired organisational culture.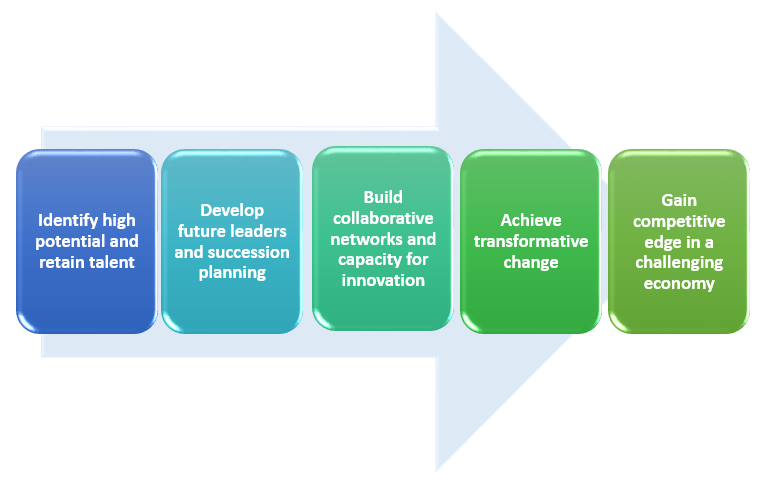 Flexible, diverse learning options
Choose from a wide range of non-accredited or qualifications based learning solutions to fit your needs, budget, scale requirements and preferred mode(s) of delivery. 
Our non-accredited options consist of:
customised, blended learning solutions that combine online learning with face to face workshops
open programmes in the form of short online courses that are available for immediate, supported individual study
any combination of licensed short online courses specifically tailored to your organisation's needs, available for supported or unsupported individual study.
We are also able to develop custom qualifications that draw on our existing programmes of postgraduate study. These can be delivered entirely online or combine online learning with residential workshops.  
Academic rigour and real world application
We know that academic concepts and ideas work best in context. That is why our facilitators, as practicing experts in their fields, are distinguished by their ability to translate theory into practice. Moreover, all our programmes require participants to apply their new knowledge and understanding to real work situations right from the start. Contextualising learning in this way brings it to life, makes it relevant and helps it stick.  
Participants on our programmes leave inspired and your organisation reaps the benefits of an engaged, adaptable workforce that is able to think and respond creatively to real world challenges.
Next steps
To discuss how we might work with you to develop your people, contact us for a preliminary chat with one of our advisers:
Phone: +44 (0)1908 653664