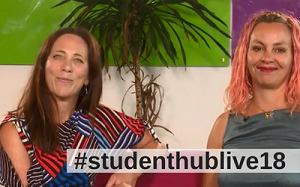 Do you feel like you are going to miss studying over the summer? Or perhaps feel as though it has gone a little quiet whilst you are still working away for your autumn submission? Why not join us at our Student Hub Live writing retreat!
This series of events will take place each week on a Wednesday night from 8-9pm, with 6 sessions that will cover different types of writing you already need or might like to consider for your university study, or for fun! We'll be discussing the merits of these different types of writing and thinking about what makes a good piece of writing and what things to think about when doing it. We'll be covering essentials of editing as an obvious aspect of writing you will all need, but also some of the less traditional types of writing including report writing, informal writing and writing for pleasure or social media, and writing for visual purposes such as posters.
Each night we'll begin with a recorded video containing some key advice, following this we'll discuss important things about the writing aspect and how it can enhance your study as well as help you to get further into your study. Throughout the event there'll be plenty of opportunity for interaction.
Writing for visual purposes
Increasingly within academic and employment life there is a need to communicate a message clearly using a visual mechanism, rather than text alone. Posters are used to give a clear snapshot of what's important, and the art of PowerPoint is certainly not death by a thousand slides! Come along and get some tips about key features and elements to look out for to wow your audience.
These sessions are open to all students, studying at all levels and are not module, level or program specific. The workshops will be hosted in Adobe Connect (online rooms) and take place 8-9pm Wednesday evenings on 27 June, 4, 11, 18 and 25 July and 1 August. For more information, you can watch the trailer here.