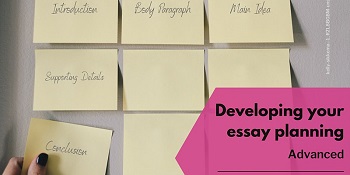 This essay planning workshop focuses on formulating the best argument to address a set question. Aimed at students on Level 2 or 3 modules, it will focus on how to structure your argument and set out your points coherently. Student Hub Live will discuss the elevation of introductions, framing arguments and exploring effective conclusions that reveal how all the points you have made address the question. The workshop will also look at how to tackle more complex essays, such as comparisons and critical evaluations.
Four hundred tickets (with a limit of one per person) are available on a 'first come, first served' basis through Eventbrite. Subscribe at Student Hub Live if you would like to be notified about regisration and upcoming events.  
Important notice: This session is very tightly structured, starting promptly and finishing on time, with a strict programme of presentations and group activities. Please log in 15 minutes before the start, so that you can test your equipment and familiarise yourself with the online room.