The way we're working isn't working for people with invisible reproductive health conditions, like endometriosis, or changing life stages, like the menopause.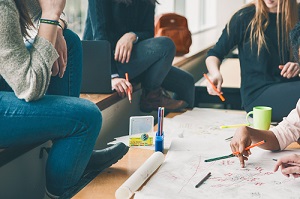 Not only do symptoms affect work, but work can significantly impact symptoms.
Research shows interventions like Menstrual policy make life much more manageable for women with reproductive health challenges. Menstrual Policy supports women by providing the opportunity to work from home, create comfortable working environments or take paid leave when they need to, enabling them to be more productive and prosper in their career and at work.
Industries that risk ignoring women's reproductive health in the workplace, risk losing out on the full potential of their workforce. 
Victoria Williams is a PhD student at The Open University Business School researching the experience of endometriosis in the workplace and Menstrual Policy. Prior to pursuing her full time PhD program, she was awarded a first class honours in Business Management from King's College London. Victoria also worked as a Digital Account Director for several years in film and creative agencies across London, alongside training in women's health. She later set up her own business in women's health supporting people with endometriosis and other gynaecological conditions.
---
Event timetable
8:00 - 8:30: Breakfast
8:30 - 9:15: Presentation
9:15 - 9:30: Q&A
9:30 - 10:00: Networking
The Breakfast Briefings are a series of face-to-face events, as part of The Open University Business Network.
These events aim to foster collaboration and create an opportunity to explore together the latest and best of business thinking. We understand business and want to help your business flourish by sharing our insights into leadership and management at this series of collaborative events.
In between briefings, why not join in on LinkedIn.